This article is going to explain different types of Algae that are found in the aquarium and the reasons why they have occurred, as well as treatment. Please remember that this is just the basics, and a reference for determining what could be your algae, and the possible cause / solution. Some of the solutions can be risky, so please post before you go ahead full steam on any of the recommendations, and always ask if you need more information
1 - BGA, aka BLUE GREEN ALGAE, SLIME
Image of BGA -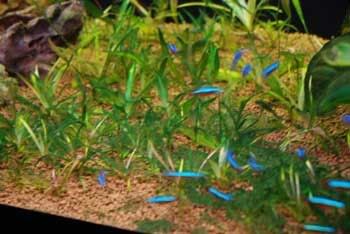 This type of algae usually occurs from beneath the substrate, and rises up. You can visually see this happening before a breakout begins, so it always worth keeping an eye on the higher levels of the substrate.
BGA is actually not an algae but a mixture of Cyanobacteria & Algae. It grows in sheets and can have a bad smell to it.
Causes -
A) Low nitrate levels
B) Areas of poor circulation with low O2, such as the substrate
Solutions -
In my experience the best way to totally get rid of BGA is to perform a 3 day blackout on the tank. Doing this will stop the development of the algae, as no light will be entering the tank. Plants will do just fine with this, as they have a more complex system over algae that allows them to survive longer without the correct environment.
To perform a blackout it is very simple and risk free.
1) Cover the tank completely so no light gets in, i have used bin bags to cover small tanks as well as old rolls of wallpaper.. you get the idea.
2) Turn off any CO2 system that may be running.
3) Use an air pump when covered.
4) Do not feed during the 3 day blackout
5) Upon completion of the blackout, do a 20% water change. If the outbreak is really bad, it is worth checking the filter to remove any excess BGA that may be there.
In all the cases that I have done this, the algae has died totally, and the plants give a nice growth spurt when the lights and normal conditions are resumed.

2 - Green Dust Algae

Image of GDA -
We usually find this type of algae in high tech tanks. It will attach itself to flat, shiny surfaces, such as glass, or decor like rocks. It is a pain to get rid of, but can be treated.
Causes-
A) High PO4 levels - Check your water source
B) Too much light
C) Excess ammonia - From dead plants, disturbing the substrate or from any decomposing material
D) Low nitrate levels
E) MG:CA balance out
Solutions
1) Increase the nitrate levels, by increasing the dosing of fertilisers
2) Lower po4 levels, by doing a 40% water change, adjusting the po4 dosing to your tank or increasing your KNO3 levels
3) Check for any dead material in the tank which may be decomposing.
4) Reduce the lighting photoperiod, and intensity if possible
5) Do a blackout as per instructed above
6) Increase CO2 levels
In my experience the best ways for treating GDA is by good cleaning practices as well as making sure points 1-6 are adhered to. This does help if you have more than one tank to house any occupants when you do the following.
1 Disconnect the filtration system
2. Stirr up the tank as much as possible and removed as much algae from plants, leaving the dust to go into the water column
3. While all the algae is in the water, remove 75% of the water.
4. Next, remove any decorations (including wood) and scrub them down, rinsing in tap water to remove all remaining spores.
5. On plants where the algae could not be removed by hand, you can do a bleach dip. Be careful here, ask if not sure!
6. Fill the tank up with water, if possible, RO water is preferred.
7. If the algae is really bad, it's worth rinsing the filter media a few times to make sure that none of the algae spores are in there (always use tank water for this)
When you have cleaned the tank thoroughly, keep an eye on it for any further growth. If this occurs, clean it ASAP with minimal disturbance. If it is possible, drop the water level to bellow the problem area and clean, which should minimise contact with the water column.

3 - Green Spot Algae
Image of GSA -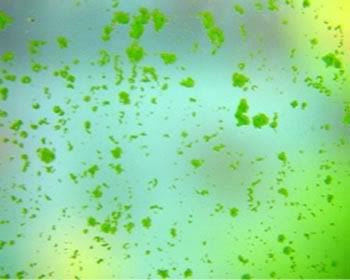 Green spot algae (GSA) is usually found on the glass and slower growing plant leaves.

Causes -
A) Low PO4 levels
B) High light / intensity
C) Low levels of CO2
Solutions -
1) Increase PO4 levels by dosing more potassium through fertilisation.
2) Reduce the lighting photoperiod, and intensity if possible
3) Increase the CO2 levels through a co2 system or using flourish excel (a carbon supplement)
4) Remove more resistant plants, like anubias and perform a bleach dip
5) Move slower growing plants showing GSA into shaded areas.
The procedure of cleaning GSA is similar to GDA, follow points 1-7 and you should beat this pretty quickly.
4 - Black Beard Algae aka BBA, Black Brush Algae
Image of Black Beard Algea
This type of algae appears as short hairs, usually a couple of cm long closely packed together. Appears dark green, black, or dark red. It usually grows on plant leaves, and sometimes on decorations/substrate. It is usually found around the edges of plant leaves.
Causes -
A) Low CO2 levels
B) High PO4 levels
Solutions -
1) Increase the CO2 levels through a co2 system or using flourish excel (a carbon supplement)
2) Lower po4 levels, by doing a 40% water change, adjusting the po4 dosing to your tank or increasing your KNO3 levels
3) Using Flourish Excel, especially above the recommended amount.
As stated above, the most effective way of treating this algae is to increase co2 levels in the tank. It could be that you are not able to invest in a pressurised setup, so please check Bob's DIY co2 tips, which is effective on tanks around the 150lt mark. One successful way of getting rid of this algae is to use Seachems Flourish Excel. This contains an isomer of glutaraldehyde which is a colourless liquid with a pungent odour used to sterilize medical and dental equipment. Dosing this has been successful for many aquarists including myself, and is probably the easiest way to get rid of this algae.
There are a few fish that eat this stuff, and those that do, in my experience, once they know what bloodworms / flake is like, the algae seems less appealing for some reason Smile
5 - Hair Algae
Image of hair algae -
Hair algae is usually found on the plant leaves and decor. It comes in long strands at least 3" long, and in a variety of colours. Again this is an easily treatable algae which will disappear when correct levels are maintained in the tank.
Causes -
A) If its green - High iron. This can be because of - Water source has high iron content, out of balance fertilising, nutrient tab in the substrate leaching into the water column (poking through)
B) If its black - Low co2 levels
Solutions -
1) Increase co2 levels
2) Check fertilisers for high iron content
3) Adjust fertilisation
4) Dose flourish excel
Either by adjusting the CO2 levels or reducing the iron in the tank will get rid of this algae pretty quickly.
6 - Green Water
Image of green water -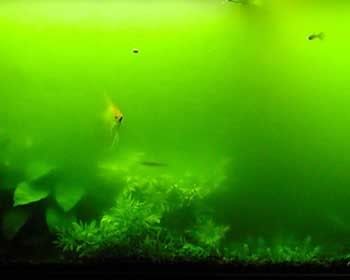 This is a free floating form of algae that is present in the water column. It is not harmful to the plants or fish, however, unsightly to us.
Causes -
A) High lighting
B) High ammonia (nh4)
C) High Nutrient levels
D) Disturbance of the substrate
Solutions -
1) UV filter the tank. Using a UV filter, the water comes in close contact with the floating algae and gets vaporised. They are also useful for polishing the water and controlling disease in the tank.
2) blackout the tank for 3 days
3) Using willow branches.
Of the methods mentioned above the UV filter is the most efficient and quickest, but also the most costly. In a couple of days this would have cleaned the tank, and if it returns you can just turn it back on. The blackout is effective, and one to try out, but sometimes wont work as effectively as the UV or willow and come back fairly quickly.
When treating green water, it is important to continue to dose the tank, but at reduced levels i.e. the fertilisers & lighting, co2 can be left high, as you still need the plants to out compete the algae for nutrients.
Willow branches have proven to be successful in the removal of green water. The technique here, is to use willow branches, which remove excess nutrients in the water column. By placing the branches in the tank upright (not in the substrate) after around 5 -10 days you will see roots forming at the base of the branches, and when this happens you should start to see a
reduction in the green water. Once cleared remove the branches otherwise your plants would starve of nutrients. The whole process usually takes around 2-3 weeks, and is a cheap effective way of cleaning up this algae.

7 - Diatomic Algae
Image of diatomic algae -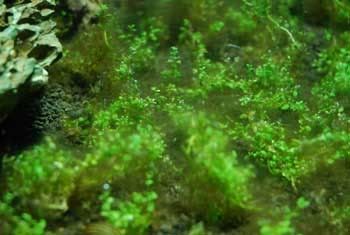 Diatomic algae occurs in newly setup tanks. It is usually found on plants in thick masses, as well as on tank decor just when the nitrogen cycle is finishing. It is fortunate this is an easy one to cure.

Causes -

A) Too much light / wrong spectrum
B) Nutrients unbalanced
C) High phosphate levels (po4)
D) High silicate levels
Solutions -
1) Reduce the lighting photoperiod, and intensity if possible
2) Make sure that no3 / co2 levels are around the correct amount.
3) Reduce po4 levels, through fertilising regime, using a RO filter if it is high in your water source
4) For silica levels an RO unit will get rid of impurities.
By putting into action any of these solutions for the algaes described, the growth sources are being eliminated & you should see a gradual decrease in the growth of the algae. In the meantime, while you determine and correct the underlying problem, the unsightly algae can manually be removed.
Thanks for reading, and if this has not helped, or you need more information, please post in the plant section.
James